Most useful customer reviews
ABDUR RAHIM
CARDIFF
Samsung Galaxy S+
20 May 2017
This one actually works!!!
I've watched a few reviews regarding Glass Screen Protectors on Youtube for my S8+ including the one produced by Mobile Fun until I plumbed for this one due the positive nature of those reviews. Must say I'm glad I bought it. It's fits perfectly and was easy to install. I recommend having a case on for easy alignment. It has this glossy shine to it that I've never encountered on other Glass Screen Protectors purchased previously that makes the 'phone stand out. The responsiveness is excellent as is the tactile feedback from the glass. The only criticism I have is that it accrues finger prints quite easily. Although nothing a quick wipe won't remedy. My daughter has now bought one too for her S8 after seeing mine. Says it all really!
Stu mac
Doncaster
S8 plus
15 May 2017
Simply works !
Simply works! Easy to apply just keep even margin from edge of protector to edge of your phone all way around, simples. Sticks on edges only however can't tell any difference too a full screen fix . Using with a spigen cs case no probs fits perfect .same screen response as before. My phone is in and out of my pocket constantly and protector doesn't catch or move .
Tipu
East London
Samsung Galaxy S8 Plus
15 May 2017
Awesome product
Wanted a screen protector to fit with a case. Awesome product. Very Easy to put on and it fits and adheres very well to my new Samsung Galaxy S8 Plus. Overall would highly recommend. If you want to a tempered glass screen protector for your Galaxy S8 Plus, this should be it. 10/10
13 Reviews
|
Write a review
---
Additional information
Case compatible protection for your S8 Plus' screen
This ingenious solution to protecting your S8 Plus' screen involves a tempered glass protector that covers most of the the edges of the curved screen, allowing you to use most cases on the market with it too. The underside of the screen protector sits flat on the screen and follows the contours of your phone's screen perfectly. This covers the entire screen and offers complete protection. No more compromising by leaving the curved edges exposed and this also ensures no dirt will get in - so no more "halo effect". By allowing you to use a case, you can have the complete protective solution for your phone.
High-tension 9H tempered glass construction for enhanced shock protection
The Olixar tempered glass case compatible screen protector is made from a reinforced tempered glass with an impressive 9H rating, maintaining image clarity while protecting your phone's screen from scratches and external shock. Using glass, the Olixar tempered glass screen protector with its impressive surface hardness and 0.3mm thickness is ready for your daily routine - taking care of your phone's display and maintaining its superb visual qualities.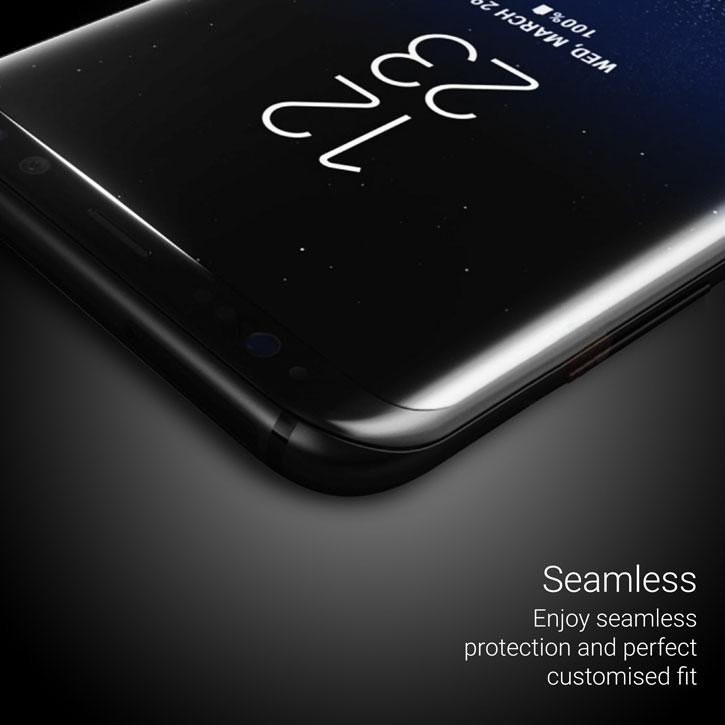 Prevents screen scratching and other damage
The Olixar range of screen protectors are designed to keep your Galaxy S8 Plus's screen clear from scratches and scrapes that could hamper your visibility. By creating a tough barrier between your screen and the world, any damage will be done to the screen protector and not the phone, keeping your device looking good as new.
Curved protector to cover even the sides of your display
The Samsung Galaxy S8 Plus features a unique curved edge screen, perfect for viewing notifications on either side of the phone. The Olixar Tempered Glass Curved Screen Protector is designed to cover even these areas of the screen, so you can rest assured your Galaxy S8 Plus has 100% display coverage providing all round protection.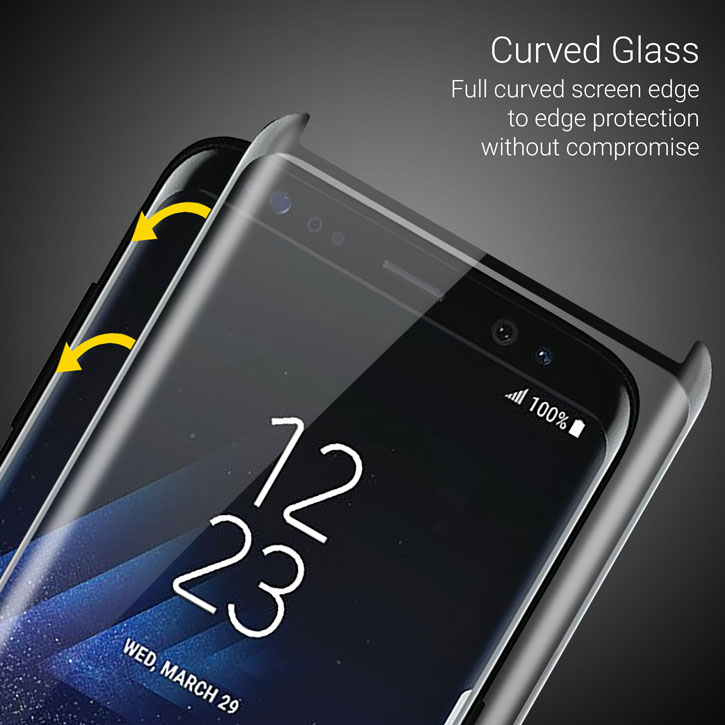 Optimal clarity barely able to notice it is there
While it's important to protect your screen, it's also vital that the screen protector does not hinder your smartphone use by clouding the screen or noticeable decreasing the sensitivity of the touchscreen. Olixar screen protectors are specially made to provide optimal clarity, while also being thin enough to keep your touchscreen in perfect working order. Once on, you will find it hard to even notice the Olixar screen protector is there.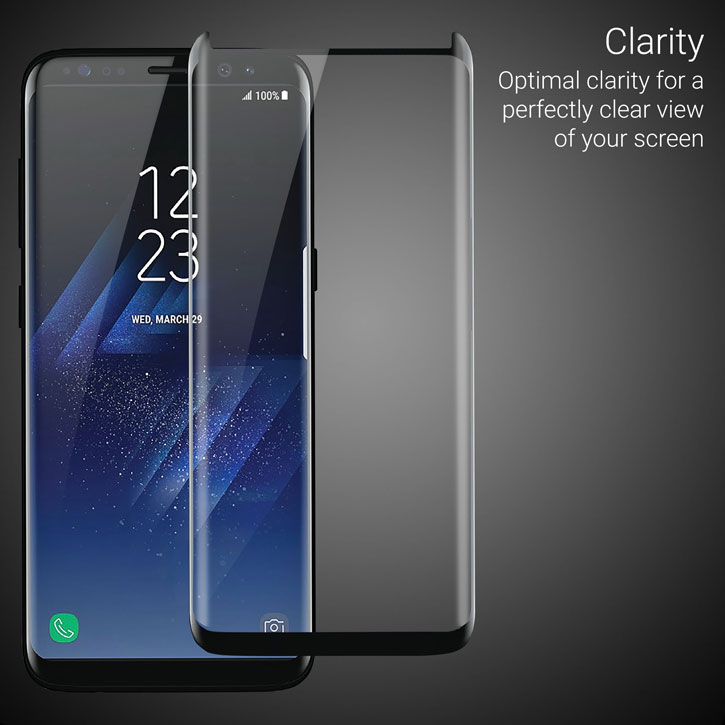 Easy to apply
Olixar screen protectors are easy to apply, as they are custom cut for each device. Simply clean the screen with the included microfibre cloth, line up the screen protector with your phone and apply. Once on, the screen protector is practically invisible.
Compatibility
We have tested a few cases just to give you an idea of the superb and diverse compatibility of this screen protector...
Olixar:
ArmourDillo
ExoShield
Genuine Leather Wallet
Ultra-Thin - 100% Clear
X-Duo
X-Trex
OtterBox:
Defender - Screenless Edition
Strada
Symmetry
Samsung:
Alcantara
Clear Cover
Clear View
Spigen:
Rugged Armor
Rugger Armor Extra
UAG
VRS Design
Please note: If your case isn't listed, don't worry, as this screen protector is designed to work with a fantastic range of cases. We do ask though that you check the screen protector will fit your device with your case on before application, as there will be in rare cases, designs that extend over the corners of the phone that could potentially cause issues.